Citrix Synergy 2017 – The Highlights
As Citrix Synergy wraps up for another successful year we have provided a whistle-stop tour of some key highlights and announcements that were made during the conference
Citrix Vision
Delivering the Citrix Secure Digital Workspace
Announcement - Citrix Workspace Service
Announcement – Citrix Analytics Service
Announcement – NetScaler Secure Web Gateway
Digital Frontier Companies
Citrix CEO Kirill Tatarinov spoke about his vision for Citrix with a strong emphasis around Mobility, IoT, Artificial Intelligence / Machine Learning and Cyber-Security with the Cloud being the enabler for this. He also envisions Citrix helping its customers become "Digital Frontier Companies". Over the past 13 years there has been a Technology-Productivity Paradox where the increase in IT spend has not always resulted in the same level of Productivity Growth with technology complexity being a contributing factor to this. However, Digital Frontier Companies, who embrace Digital Transformation do not experience this paradox. These companies;
Believe IT is an agile business enabler
Embrace unified digital workspaces
Enable digital dexterity
Make data driven decisions
Citrix Secure Digital Workspace
This really summarises what Citrix is about – securely delivering Apps and Content.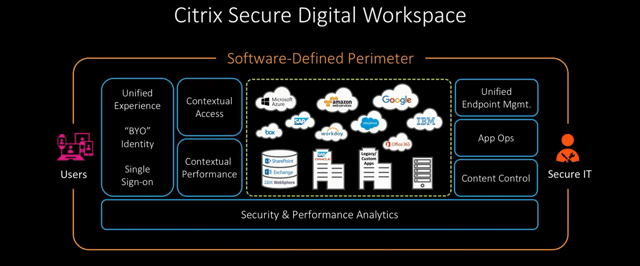 Citrix Workspace Service
At the front door we have the Citrix Workspace Service, a new cloud-hosted offering due in Q2 2017. This service enables a single point of access to Windows, SaaS, and mobile apps as well as all the content features available with ShareFile such as access to ShareFile data, network shares, and other third-party content services like OneDrive, Google Drive and Box.
These apps and content can often require different identity sources, therefore Citrix Workspace Service includes "BYO" Identity providing single sign-on regardless of the identity required by the resource.
In addition, the Workspace is adaptive providing context aware access and performance to resources. For example, the connection behaviour for accessing an application such as Salesforce from a corporate device may provide single sign-on to the application utilising the native-browser. However, if attempting to access this same application from a personal mobile device, the application could be launched securely through a managed app such as XenMobile's SecureWeb.
Citrix Analytics Service
Another key announcement was made regarding the new Citrix Analytics Service scheduled for release later this year. This service will collect and aggregate data from all the core Citrix products including XenApp, XenMobile, ShareFile and NetScaler, then use machine learning on this data to detect anomalous behaviour. Citrix will be working with other vendors to increase the data that can be ingested to further enhance detections.
Not only will the service be able to detect anomalous behaviour, but will be able to act on it in real-time to help mitigate threats.

Citrix are looking to provide a range of 'aaS' services to their Cloud platform to provide the Software-Defined Perimeter. The NetScaler Gateway-as-a-Service has been expanded to now provide 12 points of presence and new services such as WebApp Firewall and DDoS as-a-Service and SD-WAN as-a-Service offerings
NetScaler Secure Web Gateway
Available in Q2 2017 was also announced. This NetScaler component will help with providing controls over encrypted web traffic providing inspection of data encrypted end-to-end and being able to apply policies to this traffic.
- By Mark Elliot (Solutions Architect)